Favourites
Everyone has their favourite lists of food. One of my favourites on the list is leeks. Am in the leeks mood these days, tonight I'm whipping up a dish that has to do with leeks again. I'm so glad Dubai import leeks, if not, I would be demoralised. haha.. what a word to describe! =P

I love food that are steamed & stir fried. They are easily prepared within afew minutes. Quick & easy is what I'm always on a look-out for. =)

Here's our dinner yesterday.

Pot of Leeks with Pork & Prawns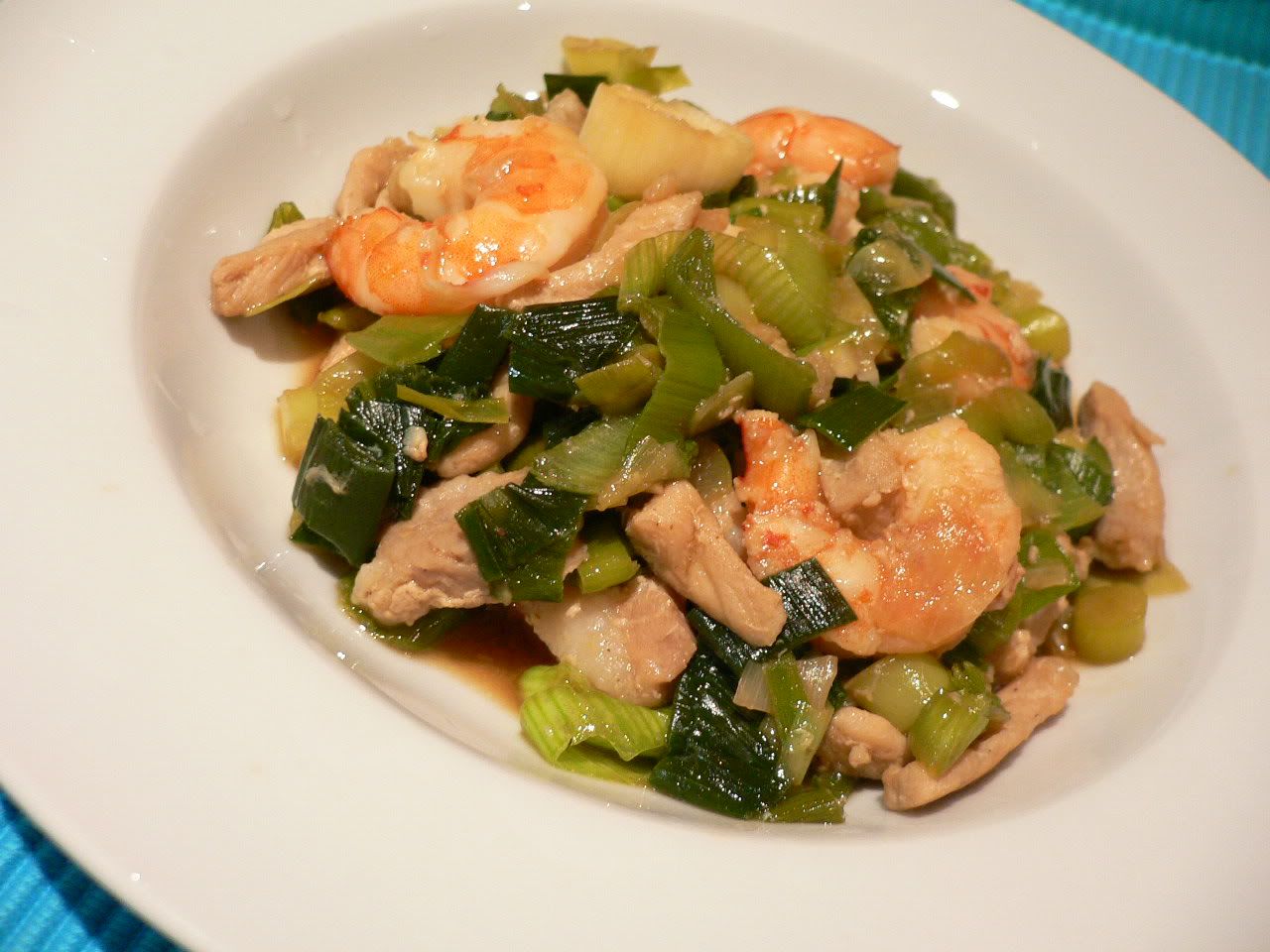 Ingredients:
3 stalks leeks
8pcs tiger prawns, devein; marinate with 1tsp hua tiao jiu & alittle salt
300gm pork loin, sliced thinly
1tsp garlic, minced finely
2tsp cooking oil

Sauce (Mix together):
1tbsp oyster sauce
1tsp sesame oil
1/2tbsp hua diao jiu
2tbsp water
a pinch of sugar

Method:
1. Heat oil in wok, add minced garlic fry till fragrant, add pork strips.
2. Pour leeks in, fry for 2 mins, add in prawns & sauce mixture.
3. Simmer for 3mins & serve hot with rice.


Steamed Chicken Patties with Toasted Onions


Ingredients:
150gm minced chicken
3tsp sesame oil
1tsp hua diao jiu
1tsp light soy sauce
a pinch of pepper n sugar
toasted onions

Method:
1. Marinate chicken with above seasonings for 1 hour.
2. Place chicken in a bowl & shape them according to your bowl circumference.
3. Steam on medium heat for 10 mins or until chicken is cooked. Garnish with toasted onions.

I learnt this from a magazine...
*To test if meat is cooked, poke with a fork- if liquid oozes out is clear, it's cooked.