Fried Beancurd with Leeks
Hoo! My recipe!! My fridge on that day was filled with lots of leeks & tofu. Decided to whip up this, simple & nice. I hope U like it.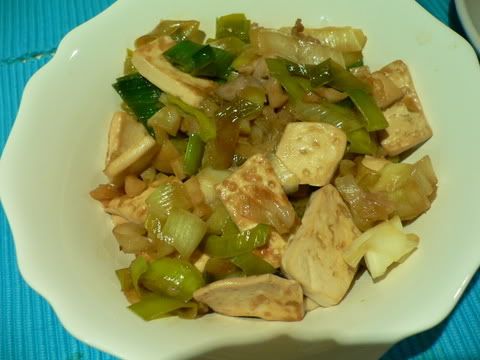 Ingredients:
1pack firm tofu, cut into thin slices
3stalks leeks, sliced
2tsp sesame oil
2tbsp oyster sauce
1tsp light soy sauce
1tsp hua tiao wine
1tsp minced garlic
a pinch of sugar
1tsp olive oil

Method:
1. Shallow fry firm tofu in hot oil till browned. Dish out set aside.
2. Add oil, fry minced garlic till fragrant.
3. Add leeks to fry for 2 mins, pour hua tiao wine, simmer for 1min.
4. Return tofu to wok, pour in rest of the seasonings and mix well.
5. Dish out, serve with hot rice.