Its a porky day
Its a porky day for dinner yesterday. I created my own dish of old yellow cucumber (lao3 huang2 gua1) with pork strips stir fry.

And hubby likes it! I too, find it nice! give 10 thumbs up for this. Do try this dish.
Old Yellow Cucumber with Pork Strips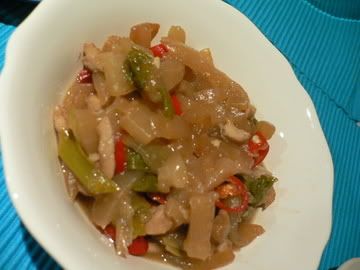 Ingredients:
500gm old yellow cucumber
200gm pork loin (cut into strips)
1 fresh red chilli (sliced)
1/2 pc of leek (sliced thinly)
1tsp chopped garlic
1tbsp oyster sauce
A pinch of sugar 400ml water (Or enough to cover all the cucumbers)
1tbsp extra virgin olive oil (u can use other types of cooking oil)

Marinade for pork:
1/2 tsp sugar
1tbsp sesame oil
1tsp soy sauce
A pinch of pepper

Method:
1. Peel off skin of old yellow cucumber, de-seed & slice or shred them into strips, soak in salt water for 30 mins, drain & set aside.
2. Marinade pork with above seasonings for 15 mins.
3. Heat up wok with olive oil & stir fry chopped garlic till fragrant.
4. In the pork goes to the wok, fry for 3mins, then put in cucumbers, fry for 5mins.
5. Add in oyster sauce, sugar, stir well.
6. Pour in water & make sure it covers all ingredients. Simmer till water are almost all soaked up & make sure the cucumbers are translucent (cooked). Do not cover wok.
7. Add chilli & leeks to stir fry.
8. Dish out & serve with rice.

This is how an old yellow cucumber looks like.



Here's the rest of the dinner, Luncheon Meat & Crabmeat Egg... Amazingly, dubai has "Ma Ling" (China Brand) Luncheon Meat.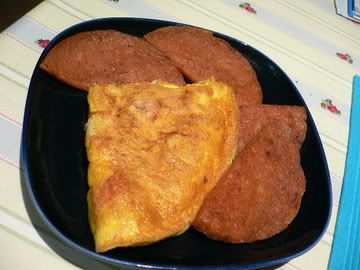 ** Cant see the crabmeat? cuz it's hidden inside the egg! hehe...