Spicy Dinner, Refreshing Drink
Made these for dinner tonight. Think Im in the 1 dish mood these days. This is my Stir Fry Dry Laksa BeeHoon...


Ingredients:
150gm bee hoon (vermicelli); Soak in water for about 20mins or until it softens, drain away water after that
2eggs, beaten
50gm bean sprouts
4pcs prawns (wash, devein)
3tbsp laksa paste (u can use homemade ones or any brand of paste)
2pcs chicken breast meat (boil in water n shred)
2tbsp cooking oil
30ml water
1pc small lime

Method:
1. Blanch prawns in water for afew seconds or till prawns turned pink/red. Remove & set aside in room temperature water to stop it from cooking further.
2. Heat 1tbsp of cooking oil in a wok, pour in egg mixture and fry. Cut into long strips when done.
3. Heat another 1tbsp of cooking oil into the wok, fry the laksa paste till fragrant.
4. Throw in beehoon to fry, coat well with the paste.
5. Add in bean sprouts and water to fry with beehoon till water are soaked up completely.
6 Serve with prawns, shredded chicken & egg. Squeeze lime for a bit of sour kick!

Note: If you find the beehoon too dry, add more water. Laksa paste is up to your own taste of spicyness.



Thanks to a member from KC who introduced this Refreshing Lemongrass Drink. When I was boiling this, the whole apartment smell so pandan-ny! I simply love the fragrance of pandan leaves! This goes very well after you finish such a spicy dish. You can serve this either hot or cold.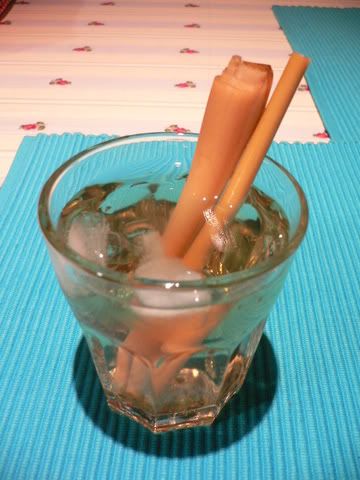 Ingredients:
2 stalks lemongrass
2pcs pandan leaves
800ml water
Rock sugar or castor sugar

Method:
1. Add water into a pot, throw in lemongrass & pandan leaves.
2. When its starting to boil, turn down heat & let it simmer for 40mins.
3. Add sugar according to your taste.