Father's Day Dinner
18 June 2006 marks the day of Father's Day. Im glad that I can celebrate this day with my dad finally. Been a year since I celebrated with him as Im so far away. Tho' Mother's Day was over, I still celebrated it belated-ly with my mama. I invited grandma, my closer aunty, uncle & cousin over too. All in all, I was cooking for 12 people. All the food are cooked in low sodium, sugar, lesser oil, everything was low as my parents & grandma taste buds are more to the blander side. Glad that everyone enjoyed the family bonding session & most importantly the food I cooked.

Im a teochew and nevertheless, a good 9 course meal must have a good dessert. And so, I ordered yam paste (orh nee) from a friend of mine who made this delicious dessert, oil-less, low sugar and fatfree. Am sad that I couldn't make yam paste as Im totally allergic to yam, once touched, rashes would appear all over me resulting me itching the whole night. Arrgghh, wat a waste, but anyway, here's a shout out to u! Thanks Jo! =) Anyone wants to order, pls tell me ya? I will recommend her to you. Hehe... free advertisement lei!! haha...

I enjoyed myself even though I ate only alittle, the more I cooked that day, the more I enjoyable it was. All turned out well & Im glad.


Here's my menu for that day:
*Crunchy cucumbers in sweet vinegar
*Wok fried style char siew
*Steamed tofu with minced pork & mushroom
*Gracio's black pepper coke chicken
*Abalone chicken soup
*Prawns with celery & lychee (got this menu from KC, thanks 2 Zu!)
*Stir fry udon with japanese mushrooms
*Steamed cod fillet in sesame sauce
*Stir fry old yellow cucumber with leeks
*Yam paste

Most of the recipes are already posted on my blog, feel free to check them out ya?

These are some of the food pics I took...

Prawns with Celery & Lychee



Stir Fry Udon with Japanese Mushroom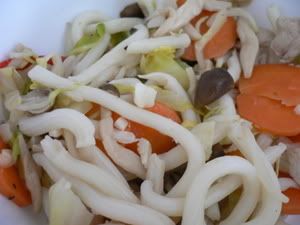 Pacific Clams Chicken Soup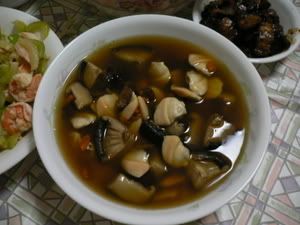 Crunchy Cucumber in Sweet Vinegar