Mapo Tofu
My hubby love any dish that goes with tofu. Don't know why lei. I know that I used to dislike eating tofu, now, Im starting to like them, think he influence me bah.

This dish is dedicated to my beloved hubby!! =)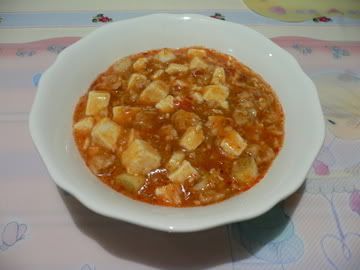 Ingredients:
1 pack soft tofu
1tsp chopped garlic
150gm minced pork meat (u can use any kind of minced meat)
1 stalk spring onion (chopped)
4tbsp chilli bean sauce (I use Lee Kum Kee)
1tbsp hua diao jiu (chinese cooking wine)
200ml water

Seasonings for minced meat:
1tbsp soy sauce
2tsp cornflour
1tsp sugar
2tsp sesame oil
a pinch of pepper

Method:
1. Diced the soft tofu. Set aside.
2. Heat 1 tbsp oil in wok, throw in garlic.
3. When browned, add in minced meat. Cook it for afew mins or till meat is almost cooked.
4. Pour in chilli bean sauce & hua diao jiu, stir fry with meat to make sure meat is well coated.
5. Add in water & tofu, stir slowly & carefully (make sure u don't break the tofu) ensure all is fully covered by water. Cover wok, let it simmer over medium heat till water level lowers down.
6. Throw in chopped spring onions & cook for 1 min.
7. Dish out & serve hot.

** Do not overcook spring onions, else it won't be crunchy. =)
** If you like it more spicy, do add some fresh red cut chillis. Don't de-seed.