A Mixture Of Taste
I was thinking of a vegetable which I haven't been cooking for a donkey years. Guess what it is? It's cabbage. This used to be my favourite vege as my grandma usually cook this with mushroom & oyster sauce. When I was young, I could eat this dish all by itself without any rice going with it. But today, I wanted to try something different instead of using just oyster sauce alone.

So here's another recipe of mine. :)

Cabbage In Hot Bean Paste & Oyster Sauce



Stuffs U Need:
1/2 a cabbage, sliced/shredded
some prawns, devein & deshell
1/2 lean pork, sliced thinly
8pcs chinese preserved mushrooms, soaked & sliced thinly
some carrots strips
1tsp minced garlic
1 small red onion, diced
1 fresh red chilli, de-seed & sliced thinly

Marinade for Pork:
1tsp sesame oil
a pinch of sugar & pepper
1/2tsp chinese 5 spice powder
a drizzle of light soy sauce & hua tiao wine

Marinade for Prawns:
a pinch of sugar
a drizzle of hua tiao wine

Sauce Mixture:
1tbsp oyster sauce
a pinch of sugar
2tbsp spicy bean sauce (dou ban jiang)
10ml water

Way To Cook This:
1) Heat oil in wok, add in garlic & onion, fry till fragrant.
2) Add in mushrooms & carrot strips.
3) Add in lean pork meat, cooked till almost done.
4) Add in cabbage, pour a dash of hua tiao wine & stir well with other ingredients. Simmer till cabbage is soft. (Add some water if it's too dry.)
5) When cabbage is soft, add in prawns & red chilli.
6) Pour in sauce mixture, coat well with other ingredients & serve hot with rice.




Wanted to try this out but procrastinated till today. Adapted this from a magazine but good me, modified the way of cooking & ingredients again as I was too lazy to bring out my steamer. :P

It has a little sweet & sour taste as plum sauce is used to make the gravy.

Enjoy this Stir Fry Chicken with Piquant Sauce. This is good! :)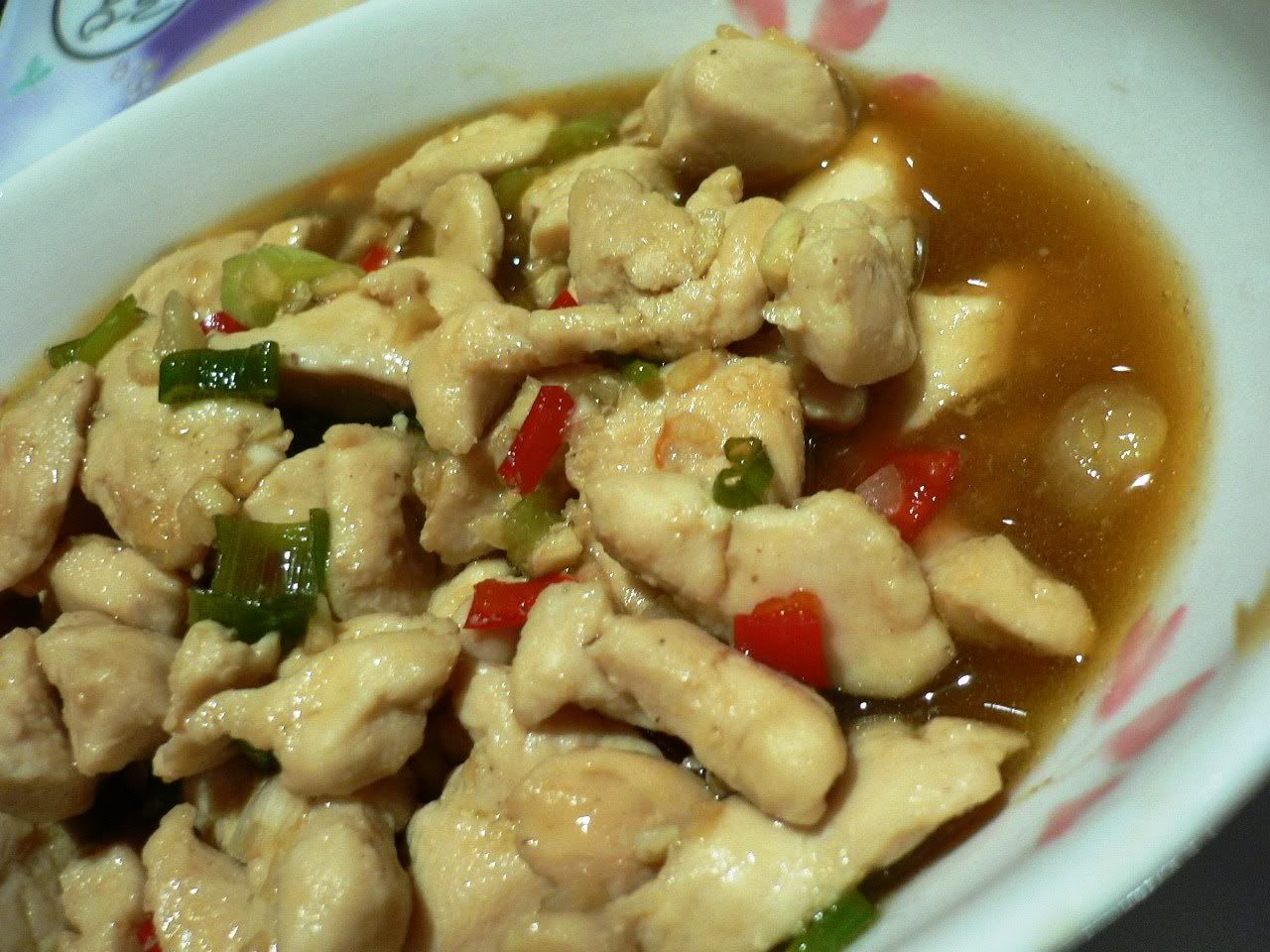 Stuffs U Need:
3pcs chicken breasts, sliced
1/2 fresh red chilli, chopped
1 stalk spring onion, chopped
2 cloves garlic, minced finely

Marinade for Chicken:
1tbsp light soy sauce
1tbsp hua tiao wine & 1/4tsp pepper

Sauce Mixture:
previously chopped chilli & garlic.
3tsp sesame oil
3tbsp plum sauce
1tbsp light soy sauce
1tsp white rice vinegar
4tbsp water

Way To Cook This:
1) Marinade chicken for 1/2 an hour.
2) Heat oil in wok, add in chicken to stir fry till almost done.
3) Stir sauce mixture in, mix well with chicken, bring to a boil, simmering for 2-3 mins.
4) Dish out, garnish with spring onions b4 serving.