Thy Dinner Thy Night
Haiyo! It's been quite afew days I stepped into my kitchen to pick up my wok & spatula. Poor hubby has been eating macdonalds these few days for lunch. Am glad that my cousin came & brought me foods & magazines! =) But he left and will only be back on Sun as he gotta fly to Dublin. Nice place! Hope to go one day.

Been eating out these days, celebrating bday, anniversary, bringing my cousin around for a day. That's why cooking was out of the question the last few days.

Today, I restart my adventure in my favourite place, that is my kitchen. Sounds weird but I really miss cooking & eating my own home-cooked food. Do u all feel the same way too at times? :P Yes, I do... I must say this is my second time feeling this way. I was lost at 1st of thinking what to cook, how to cook and all the confidence-less thoughts kept running thru' my mind. In a twink of an eye, dinner is ready & served. Wonder how I do it. haha! Amazing! I must say I miss cooking!! :)

Alrighty, here's thy dinner for thy evening.

Remember the post about China Shoe City? I wanted to try out the Szechuan vege. Indeed, it was good. =)

Szechuan Vege with Marinated Minced Pork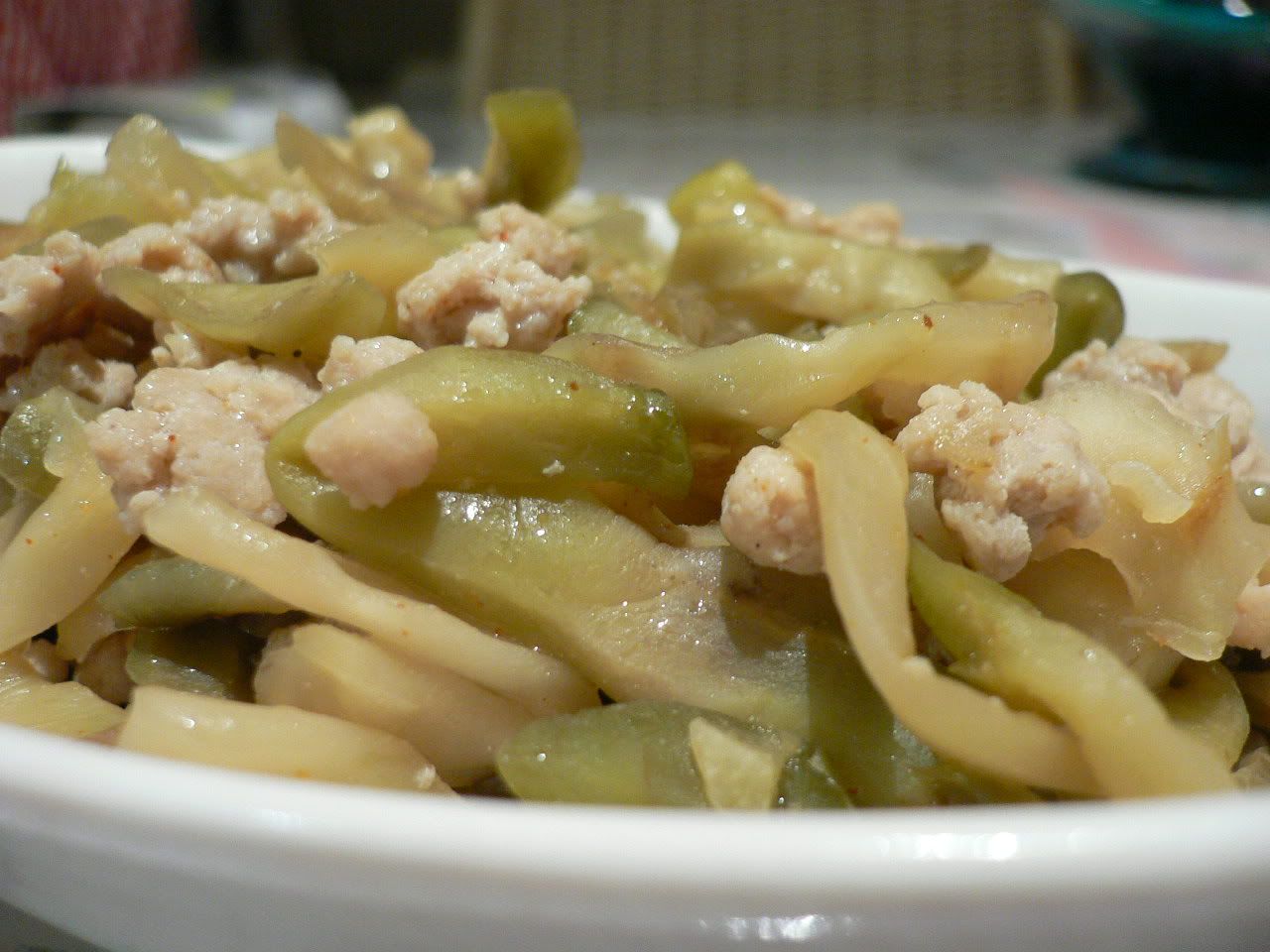 Serves 2
Ingredients:
2pkts szechuan vege ( I usually wash it 2-3 times to get rid of the dirt)
1clove garlic, minced finely
150gm minced pork

Marinade for Pork:
1tsp light soy sauce
a pinch of sugar, salt & pepper
1tsp cornflour
1tsp hua tiao wine

Method:
1) Heat oil in pan, add garlic, fry till fragrant. Add in minced pork.
2) After pork is halfway cooked, add in szechuan vege. Stir fry for 2 mins.
3) Add a pinch of sugar, fry till all is well done. Bon Appetit!


Egg tofu has been sitting in my fridge for quite awhile, so decided to make Stir Fry Egg Tofu with Prawns, Chicken & Vegetables.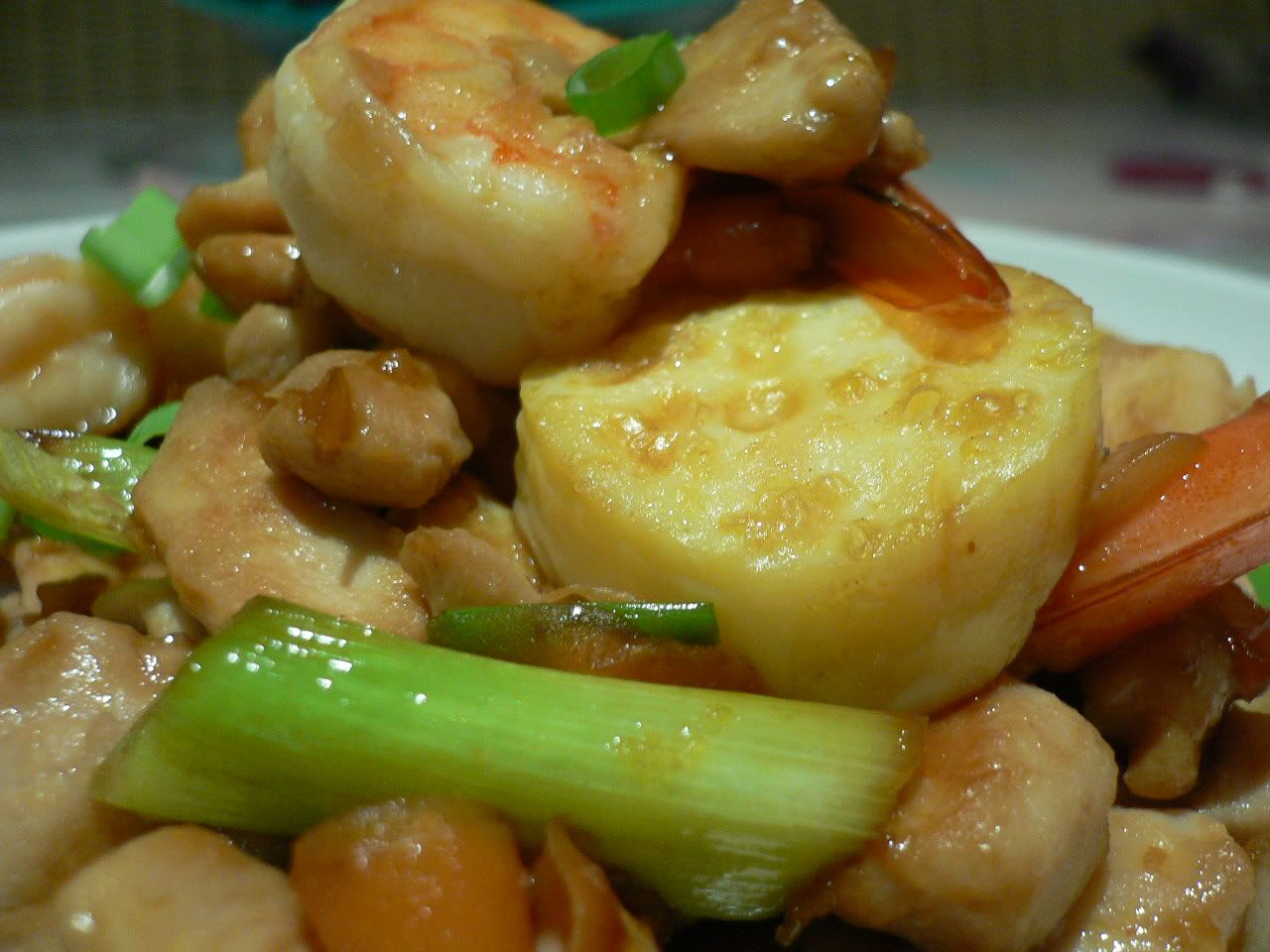 Ingredients:
1 tube egg tofu, cut
4 stalks spring onions, sliced
5pcs tiger prawns
2 chicken breasts, sliced thinly
Some carrots strips

Marinade for Chicken:
1tbsp soy sauce
a pinch of sugar & cornflour
1tsp olive oil
A dash of hua tiao wine

Marinade for Prawns:
A dash of hua tiao wine
A pinch of salt

Seasonings Mixture:
1tbsp oyster sauce
1tbsp sesame oil
a pinch of sugar
1tbsp water

3 cloves garlic, minced finely

Method:
1) Heat oil in wok, fry garlic till browned.
2) Add in chicken, fry for 2 mins, throw in prawns to stir fry together till well done. Dish out.
3) Heat 2 tsp oil, shallow fry egg tofu on both sides till alittle crispy/browned. Set aside.
4) Add alittle oil, fry some garlic, spring onions & carrots till fragrant.
5) Return all other ingredients to wok, pour in seasonings mixture & mix well. Serve.