Wat Tarn Hor Fun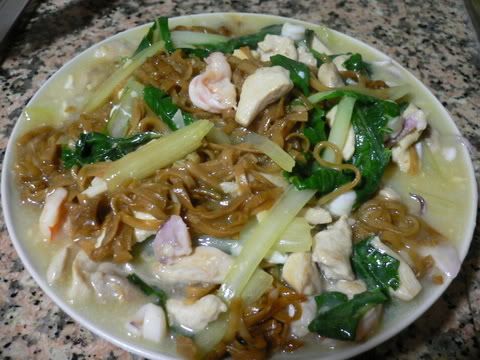 This Wat Tarn Hor Fun was made long ago. I think this can be eaten at any part of singapore in any Zi Char Stall. Goes great with pickled green chilli. Recipe from a member @ KC but I've modified to suit what I can get here. =)

Ingredients:
1packet dried hor fun, (soak in water to soften & drain)
1 tbsp dark soya sauce
1 tbsp light soy sauce
2 tsp olive oil
1 piece pork tenderloin, (marinate with 1tsp hua tiao wine, light soy sauce, 1/2tsp cornstarch, a pinch of salt & pepper, 1tsp sesame oil)
Fish cake (I omitted this)
6pcs prawns (devein & deshell)
1 whole squid or seafood mixture (wash & cut)

1 tbsp minced garlic
6pcs preserved chinese mushrooms (soaked & sliced thinly)
½ large sweet onion
1 bunch choy sum
300ml chicken stock
1 tbp cornstarch plus 2 tbsp water to make a slurry
1 egg lightly beaten
Salt and pepper to taste

Method:
1. Heat oil in wok. Toss in the horfun, when it's a little warm and slightly sticky, add in the 2 soy sauces. Stir a little, let the noodles crust a little, turn over, dish out, set aside. Leave in oven or anywhere to keep it warm.
2. Put in the pork and do not stir, just let it cook and crust on one side then flip over. Take out of wok when just cooked.
3. Brown the garlic , toss in onion, choy sum and mushrooms. Stir & add in stock.
4. When stock boils, add in corn starch, bring to boil again.
5. Toss in the pork, fish cake, prawns & seafood mixture. Cook for 2 mins, turn off heat.
6. Pour in the egg, stir & quickly ladle over the previously cooked hor fun.