Sago Pudding with Gula Melaka
I FINALLY found Gula Melaka here.

"Gula Melaka is the name of the brown palm sugar tapped from the coconut tree. It has a fragrance so intensely delicious that it needs only the addition of thick coconut cream to create a sauce of unsurpassed richness.This is poured over a simple pudding made from sago pearls." (Taken this from the web)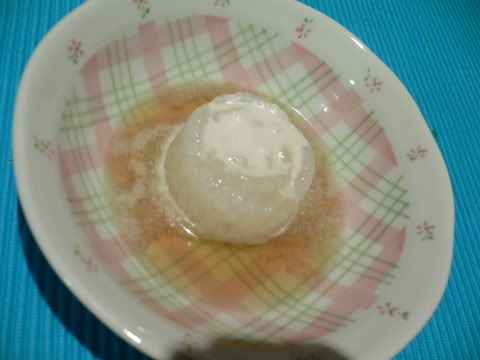 Ingredients:
250gm Sago
450ml Water
300gm Gula Melaka (to your own taste)
250ml Water Coconut milk (to your own taste)

Method:
1. Boil 450ml of water in a pot. Add sago when water is boiling.
2. Stir continuously to avoid sago sticking to one another. Boil until all sagos are translucent.
3. Remove from heat & sieve sagos in a sieve. Put sagos in a large container filled with room temperature water to avoid them sticking together.
4. Boil 250ml of water in a pot again, and put in gula melaka.
5. Bring this mixture to boil and make sure gula melaka is dissolved.
6. Drain away sago water (the water from method 3) & put sagos in a rice bowl or mould. Refrigerate.
7. Serve this dessert chilled with cold gula melaka syrup & coconut milk. Enjoy!

** I love this dessert sweet, if you would not like it too sweet, u can reduce the gula melaka. ** Coconut milk-- up to you to add according to your taste. ** If you are using big sagos, soak them in water first before boiling them in water. This will shorten the time of cooking, else big sagos take a longer time to cook.