Busy Evening
My kitchen stove is 'neglected' by me as I've been kind of hooked to baking lately. Haven't been cooking up a storm since last thursday as hubby wasn't home.

So tonight, I am busy again after I was given a short holiday from cooking. Feels so recharged, was kinda excited as I've had many dishes running thru' my mind, just can't decide which ones to cook.

Here's the fulfilling dinner that we had, hubby's next day 'bento box' is packed to the peak, think he will enjoy having his packed lunch tomorrow. :)

This recipe is adapted from 'Periplus Eurasian Favourites' mini cook book but as usual I made some changes again.

Minced Meat with Fried Potatoes


Stuffs U Need:
Oil for deep-frying
1 large potato, diced
1 onion, sliced
2 cloves garlic, minced
150g minced pork
150g low fat minced beef
a pinch of ground black pepper
20ml water

Seasonings:
1tbsp dark soy sauce
a pinch of sugar

Directions:
1) Deep fry potatoes in hot oil and fry til golden brown and tender. Remove and drain on paper towels.
2) Add 1tbsp oil to wok, when hot, add in garlic & onions sauté till fragrant & tranlucent.
3) Add in minced meats, stir fry till almost done, add ground black pepper, seasonings & water. Simmer uncovered until water has evaporated.
4) Serve hot with previously deep fried potatoes as garnish.

--------------------------------------

Next up is this Sauté Chicken & Mushrooms.



_____________________________

I heard from friends that "Brahim's" premixes sauces are great. Bought these afew weeks back, and finally get to use it tonight. Here's the Sambal Tumis Prawns. Really yummy, can't resist the gravy, ate spoons after spoons of it. Indeed, "Brahim's" never fails! :)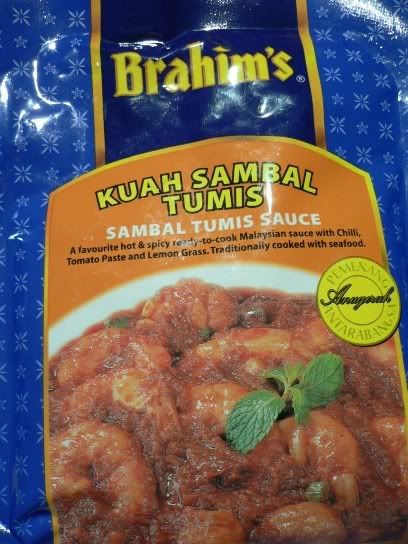 The finished product



Since we've had quite heavy dishes, I decided to have a really refreshing & yet not so oily vegetable. Blanched Broccoli Florets with Garlic Crisps I should end off with.