Stir Fry Bok Choy with Prawns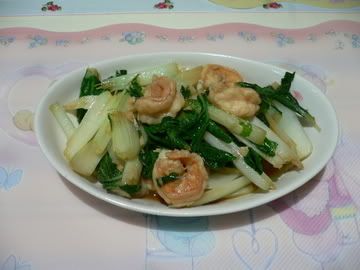 Ingredients:
500gm bok choy
250gm tiger prawns (devein, deshell)
1tsp chopped garlic
1tbsp extra virgin olive oil
20ml mushroom sauce
2tsp cornstarch mix with 1 tsp water

Method:
1. Marinate prawns with salt, sugar & cornstarch.
2. Heat oil in a wok, when hot, throw in garlic to stir fry till fragrant.
3. Add in prawns to stir fry for 1 min or until when prawns turn pink/red.
4. Scoop out the praws, leave aside.
5. Using the same wok (no need to wash), add in bok choy & fry for 2 mins.
6. When almost done, add in prawns, mushroom sauce & cornstarch to thicken the mixture.
7. Serve immediately.