Lazy Days
Lazy days... But still yummy food! Fusilli Homemade Chicken Soup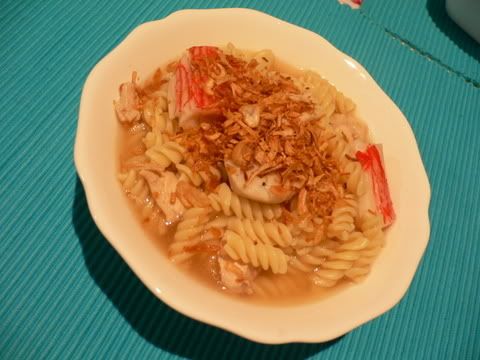 Ingredients:
250gms fusilli (or any kind of macaroni you like)
5pcs sotong balls
5pcs crabmeat
300ml homemade chicken stock
2pcs chicken breasts meat (boil & shred)
toasted onions

Method:
1. Boil chicken stock, when boiling, reduce to medium heat.
2. Add sotong balls to cook.
3. Add in fusiilli & let it cook for 8 mins, stirring it once a while.
4. When fusilli is done, add crabmeat and mix well into the soup.
5. Serve with shredded chicken & garnish with toasted onions.

(Claypot) Chicken Rice but using a rice cooker to cook it instead of a claypot.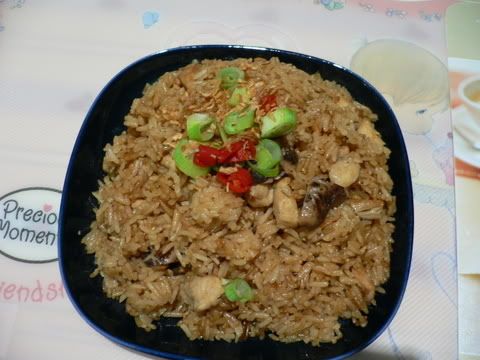 Ingredients:
250gm rice (wash & drain)
3pcs chicken thigh meat (chop into bite size pieces)
1pc chinese sausage, slice thinly (I omitted this)
4pcs preserved chinese mushrooms (soak to soften, sliced thinly)
350ml water
1pc fresh red chilli, cut & de-seed
1stalk spring onion, diced

1tbsp extra virgin olive oil

Seasonings for chicken:
1tsp ginger juice
1tbsp light soya sauce
1tbsp oyster sauce
1tbsp sesame oil
1tsp cooking oil
1/4tsp pepper
1tsp sugar
1tsp cornflour

Seasonings for rice:
1tbsp dark soy sauce
1tsp soy sauce
1/4tsp pepper
1tsp sesame oil
1/4 tsp sugar

Method:
1. Marinade chicken with the above seasonings. Set aside for 30mins.
2. Heat 1tbsp extra virgin olive oil in wok, add in soften mushroom to fry till fragrant.
3. Add chicken pieces, chinese sausage to fry together with mushrooms. Dish out &put aside.
4. Mix rice with the seasonings & water. Put into rice cooker & cook rice as per normal.
5. When rice is almost cooked, add the previously cooked ingredients & continue to cook the rice. 6. Dish rice out, garnish with spring onions & fresh red chilli.