宫保鸡丁 Kung Pao Chicken
This is a dish which I love wheneva I eat at "zi char" stall in Singapore. Didn't know that it is such an easy dish to prepare.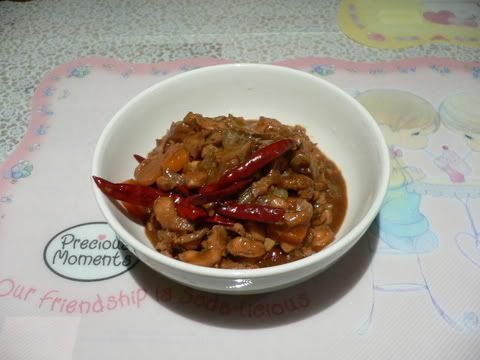 Ingredients:
250g chicken thighs or breast meat
6 dried red chillies
2 stalks spring onions, cut into 2 inches length
1 carrot, sliced
1 inch young ginger, sliced thinly
1/2 red onion, sliced
1tbsp olive oil

Seasoning for chicken:
1tsp light soy sauce
1tsp dark soy sauce

1tsp sesame oil
A dash of pepper
1tsp hua tiao wine
1tsp olive oil
1tsp sugar
1 tsp corn flour

Gravy mixture:
1tsp light soy sauce
1tbsp dark soy sauce
1tsp sugar
1cup of water

Thickening:
1tsp cornflour
2tbsp water

Method:
1. Marinate chicken with seasonings for 1 hour.
2. Heat oil in pot, add in onions, when fragrant, add in chicken pieces.
3. Add in dried chillis, stir fry with chicken, then add in carrots.
4. Stir to add in gravy mixture, cover pot & bring it to a boil or until water level lowers down.
5. Add in thickening. Serve hot!

PS: This goes great if you add in cashew nuts too! =)