Childhood Meals
Today I whipped up dishes which reminds me of my childhood days. Since young, my beloved grandma would take care of me while my mama was teaching. Hence, dinner is always prepared by my grandma. I love this whenever she prepares it. But it's quite unhealthy cuz it's alittle salty. Usually when I make this, I would add alittle of each sauce to balance the taste.

Another dish by her which will stay dearly in my heart.

My Grandma's Cabbage Rice Bowl

Serves 3



Stuffs U Need:


1/2 chinese cabbage, shredded
1tsp minced garlic
8pcs chinese preserved mushroom, soaked & sliced thinly (leave the mushroom water 4 later)
some minced pork
2 & a half cups uncooked rice (adjustable)
water (depends on how much rice u put in)
Marinade for Pork:
a dash of sesame oil, sugar, pepper & hua tiao wine
1/2tsp chinese 5 spice powder
(Leave for 1/2 hour)



Seasonings:


2tbsp oyster sauce
2tbsp sesame oil
2tbsp dark soya sauce
2tsp chinese 5 spice powder
a dash of hua tiao wine
a pinch of sugar



Directions:


1) Heat oil in wok, add minced garlic, then mushroom, stir fry till fragrant.
2) Add in pork, fry for 2 mins, then add in cabbage & some water.
3) When cabbage softens, dish out everything & set aside.
4) Wash rice in rice cooker/pot, add in the previously fried ingredients, mix well with rice.
5) Pour in seasonings & stir well, make sure everything is well coated.
6) Add in some mushroom water & water as per how u would cook ur rice. Garnish with sliced red chillis b4 serving.
Bon Apetit!


Stir Fry Beansprouts with Onions
may be simple & easy to prepare, but yet, this is one vegetable dish that my mama would buy for me for lunch whenever she gets to knock off early from school. I love to eat this with white rice & char siew. The cook at her school always give her lots of bean sprouts as they knew this is my favourite vegetable. :)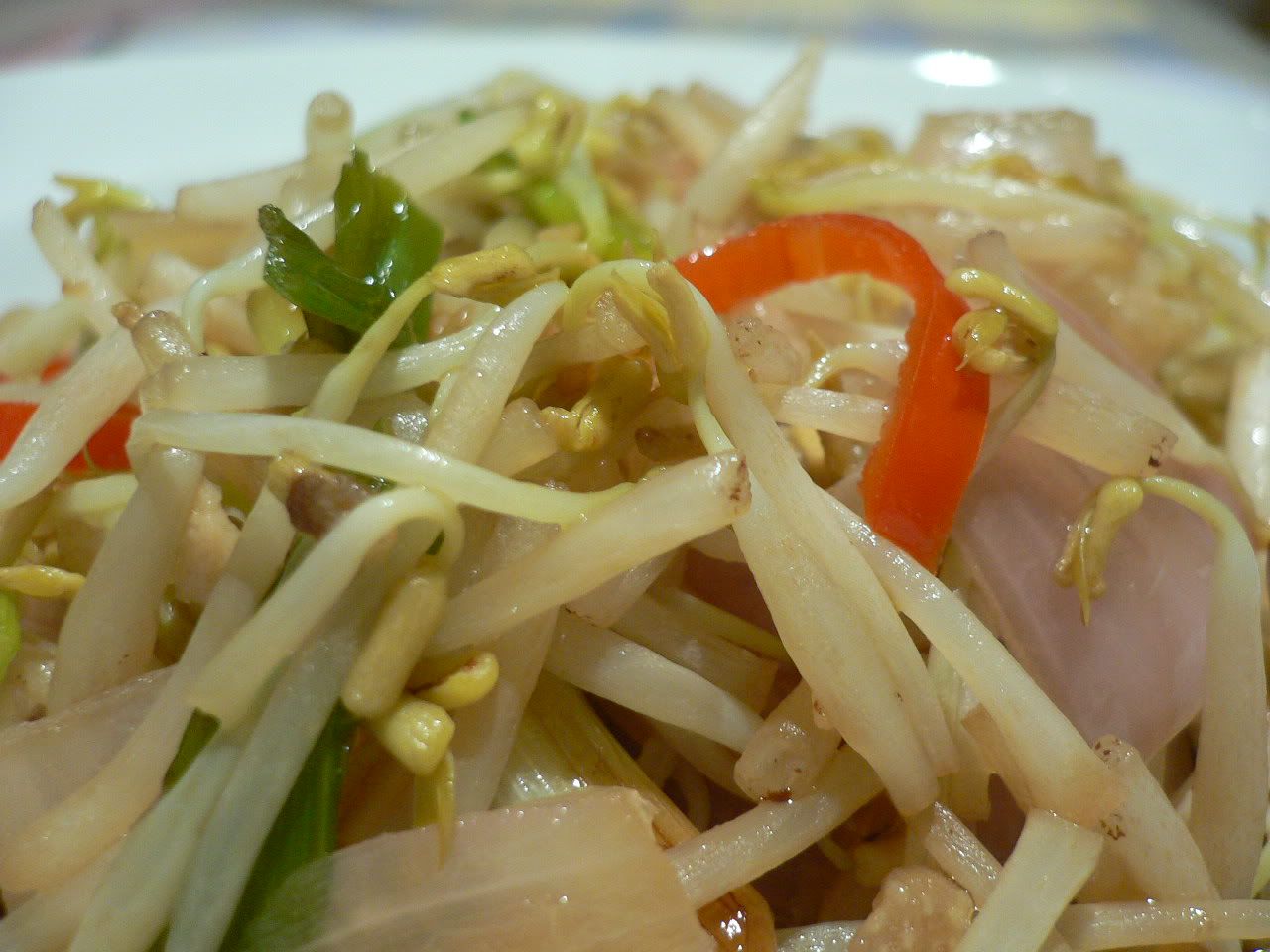 Stuffs U Need:


bean sprouts, roots peeled away
1 red chilli, sliced thinly
3 sprigs scallions, sliced
1 small red onion, sliced thinly
2tsp minced garlic



Seasonings:


1tsp fish sauce
a pinch of sugar
2tsp hua tiao wine

Directions:
1) Heat oil in wok, add in garlic & onions, fry till fragrant/browned.
2) Add in scallions & red chilli.
3) Add in bean sprouts, fry till softens.
4) Pour in seasonings & serve hot with rice.