Sour, Sour, Sour!! Love It!
This is my 2nd time making this wonderful dish. Recipe's taken from KC but I modified it again. hehe... Surprisingly, hubby slurp everything up, usually he doesn't like sourish stuffs.

Give me anything with vinegar I'll wallop up for u! :)

Black Vinegar Chicken


Ingredients:
chicken breasts, sliced thinly
1 large red onion, sliced thinly
4 cloves garlic, minced finely
1 small red fresh chilli, de-seed & sliced
8pcs chinese preserved mushrooms, soaked & sliced

Seasonings:
a dash of light soy sauce
a pinch of sugar
5tbsp chinkiang black vinegar (depending on how sour u like)

2tsp cornflour mixed with 1tsp water

Method:
1) Heat oil in wok, add in garlic & onion, fry till browned.
2) Add in sliced mushrooms, fry till soft.
3) Add in chicken slices, fry till almost cooked.
4) Add in sliced red chilli.
5) Pour in seasonings & mix well with other ingredients, let it simmer for 1 min.
6) Stir in cornflour mixture; make sure it's blended well & serve hot.




I usually don't like potatoes. Usually only take it when it's mashed. :P Mmm, while browsing thru' the supermarket, ways of cooking potatoes start to cross my mind & was inspired to get afew since we've not eaten this boiled in soup for quite awhile.

Potato Soup with Crabmeat & Tofu in Chicken Broth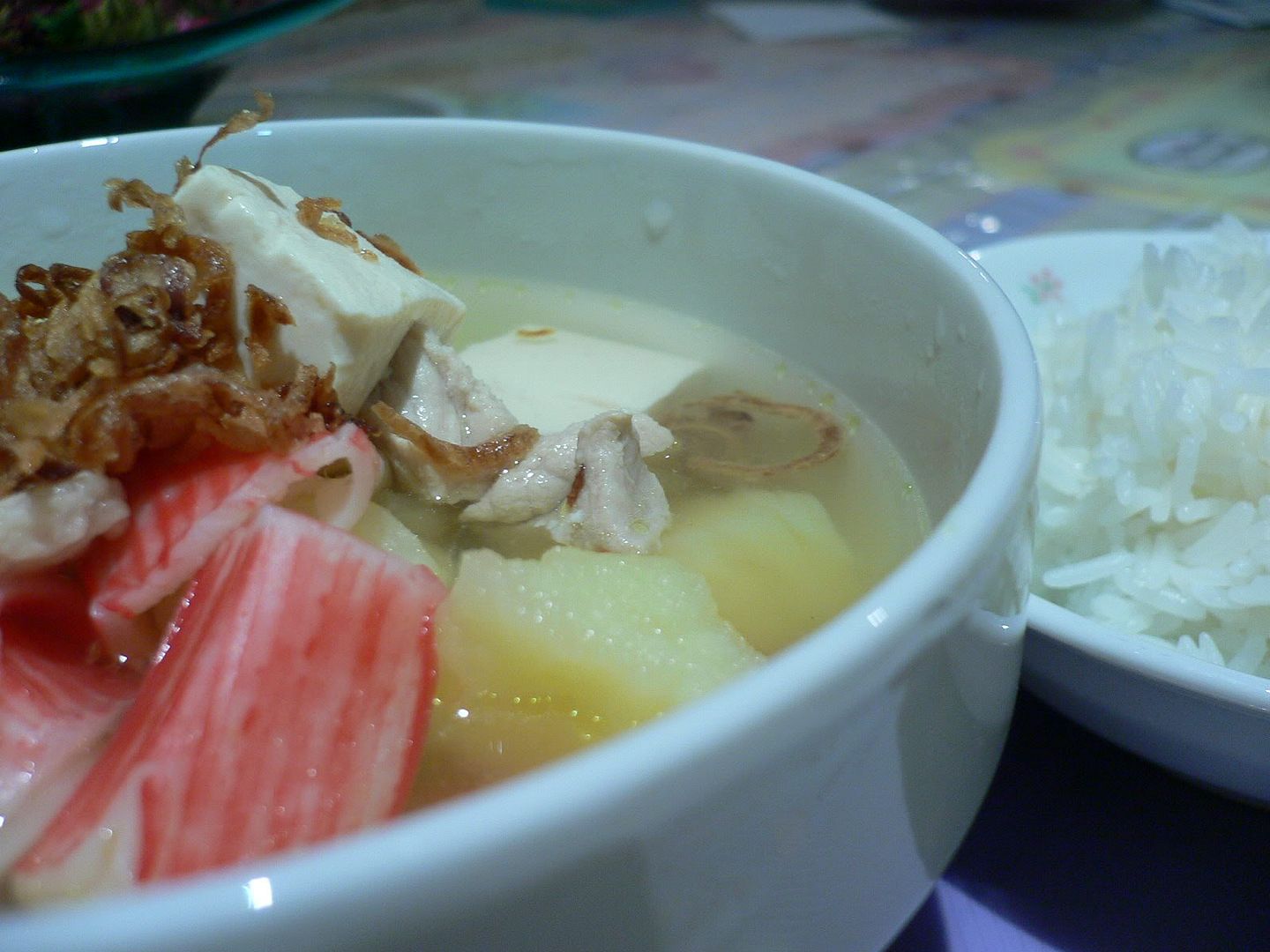 Ingredients:
1 russett potato, peeled & sliced in chunks
3pcs crabmeat, halved each
1pkt soft tofu, sliced
1pc pork loin, sliced thinly
some toasted onions
1 clove minced garlic
500ml homemade chicken broth

Method:
1) Heat alittle oil in pot, fry garlic till fragrant.
2) Add in potato chunks, pork loin, stir well with gralic.
3) Pour in chicken broth, cover pot, simmer till potatoes are soft.
4) Add in tofu & crabmeat. Serve when it's well done with toasted onions. Enjoy!

These few months will be super duper warm over in Dubai. So was inspired to make tong shui that are cooling. I hate ulcers... hopefully, will go away soon! Arrggghh...

I don't like the soup to be sticky due to the sago pearls, so I par boil them & add them into the soup when green beans are about done. :)

Thanks to a member of KC who taught us to boil the sago 1st, when mostly are done, turn off the heat & cover pot to let the sago "cooked" further. Indeed, this method is good! :)

Green Bean Soup with Sago Pearls