Fulfilling Night
Fresh egg noodles available in the supermart today!! And dinner tonight's Mee Goreng with a refreshing dessert to tone down the oily-ness.

I miss those days whereby hubby & I would sit together with David & Theresa at prata shop, enjoying teh tarik, milo cino, eating pratas & mee goreng, chatting away till wee hours in the morning. I love the indian style Mee Goreng, will never get tired of eating that.

Hubby was very encouraging, gave me a 110% marks for this & said "this is excellent!" Am glad he likes it, brings warmth, confidence and love to my heart. Thank Q... :)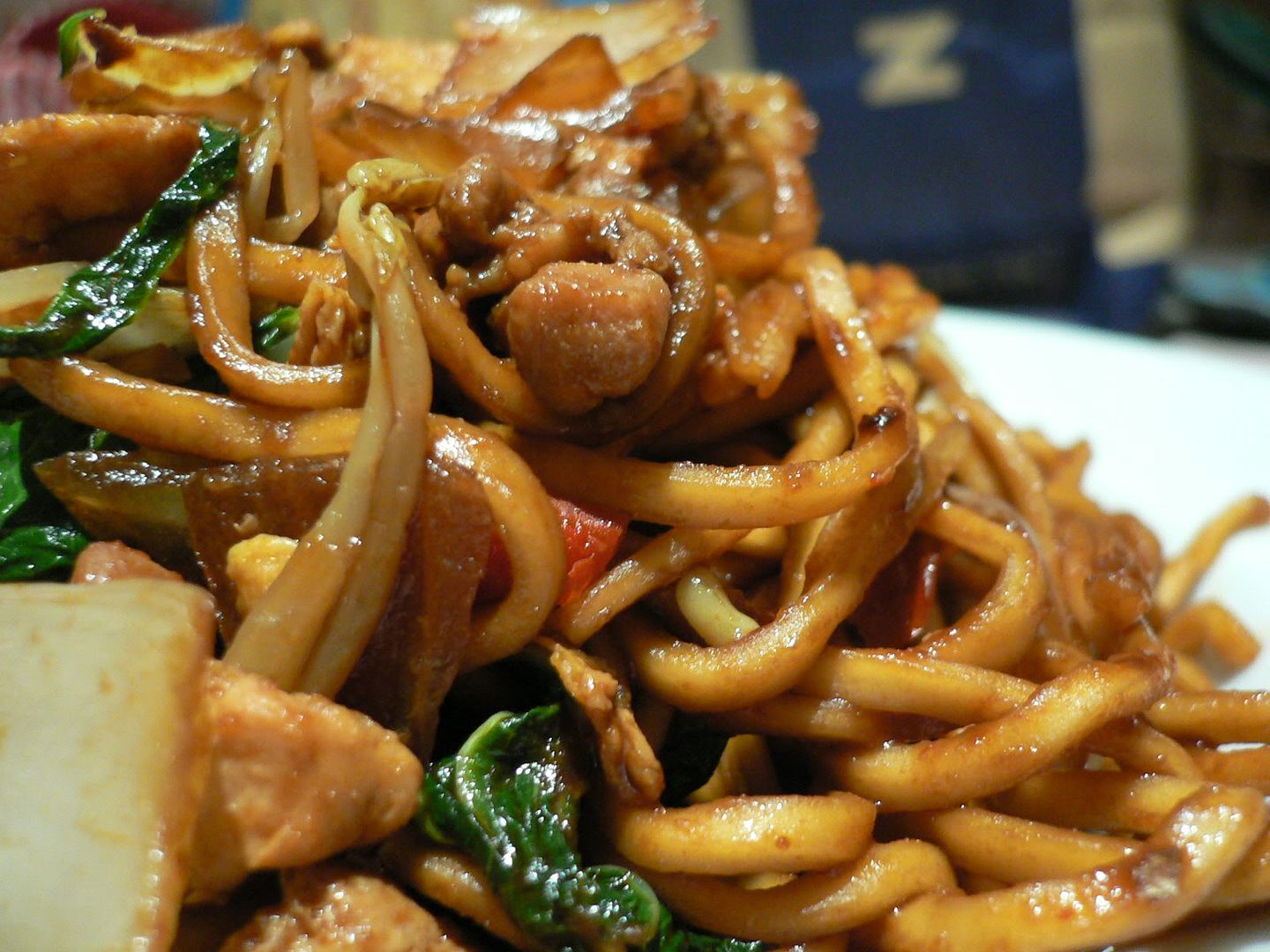 Stuffs U Need:
fresh egg noodles
ur favourite vegetable
1 small red onion, sliced thinly
2pcs chicken fillet, sliced
1 potato, diced, boiled in water, set aside
50gm beansprouts
3 eggs, lightly beaten (fry & minced finely)

Seasonings for Chicken:
1tsp light soy sauce
a dash of sesame oil

Seasonings for Noodles:
2tbsp dark soya sauce
2tbsp kecap manis
2tbsp tomato ketchap
5tsp sambal
1tsp water

Directions:
1) Heat oil in wok, add in onions, fry till translucent. Add in chicken to fry till half cooked.
2) Add in beansprouts & vegetable, stir fry till vegetables half cooked.
3) Add noodles & stir, followed by diced potato & egg.
4) Pour in seasonings, make sure all ingredients are well coated. Serve hot.




Oke, cheated on this Tofu Fa a.k.a Tau Huey. Checked out Ching's post yesterday & I screamed with excitement immediately! haha, wanna know why? 'Cuz I wanted to try making this from scratch, but I don't have a blender yet, agar agar powder that I brought along with me from Singapore are very precious, so I can't afford to fail otherwise the powder will be wasted. :P

I recalled seeing that packet of tofu mix somewhere here, and I thank God that UAE caters to that small number of japanese here. Alright, tell u the truth, may sound abit weird but I lose sleep over this packet of tofu mix last night & was so excited about it that I went down early morning just to find this, keeping my fingers crossed that it'll be on the shelf. I know I would disappointed if they run out of stocks or for whatever reasons, that is.

This really and I mean REALLY, satisfies my craving for tofu fa. The 3 'S' that meets the criteria of a tofu fa: Silky, Soft & Smooth. Thumbs up! This was done within minutes.

Thank U, Ching!, for posting this on ur blog, if not, I know I would never buy this. :) *Hugz*