KangKong with Chilli Garlic Sauce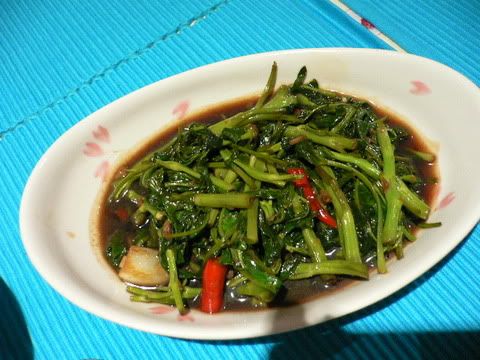 Made KangKong (Water Convolvulus) with chilli garlic on Monday, 22 May.

I always eat this at one of my favourite indian (chinese) restaurant. Couldnt ask them for recipe, so I decided to taste & modify it myself. This is the 2nd time I make this dish. Our vege meals are usually pak choy, eat until abit sian already. Mondays are always Spinneys (supermarket) Market Day. And only that day, I could see fresh, beautiful KangKongs. Bought 2 bunch home and decided to cook this dish.

Ingredients:
250gm kangkong (Water Convolvulus)
4 cloves garlics (sliced off the butt)
3pcs chilli padis (do not deseed, sliced)
1tbsp extra virgin olive oil
2tbsp dark soy sauce
1tsp oyster sauce
1tsp sugar

Method:
1. Heat 1tbsp oil in the wok. Add in garlics. Stir fry till fragrant or browned.
2. When garlic is browned, add in chilli padis. Stir fry for 1 min in medium heat.
3. Throw in kangkong, fry & add dark soy sauce, sugar.
4. Make sure sugar is dissolved and kangkong are cooked.
5. Dish out & serve with rice.