"Dae Jeung Guem" (대장금) Night
Yes! Korean food for tonight! No, not at a restaurant, but rather, at home. Am very happy with the results today. Will make these again, practice makes perfect!

These are what I cooked, favourites of all favourites! Hubby gave thumbs up for all dishes!

Dwen Jang Jji Ge
(Korean Bean Paste Stew with Vegetables)

Don't judge by its outlook. This stew is not that spicy afterall. It's actually mostly made up of

korean bean paste

yet not too salty, unlike our Chinese "Tau Jiong". I love korean bean paste, next time I shall try whipping up chicken with potato in this paste. :)
Kim Chi Bok Eum Bab (Kim Chi Fried Rice)
Something that korean food is never lack of.

Kim Chi

. I love the cruchy texture of the nappa cabbage with the vinegary taste & a tint of spicyness in this. I added minced pork to this rice dish as well. Taste good!


Oh Ee Mu Chim (Cucumber Salad)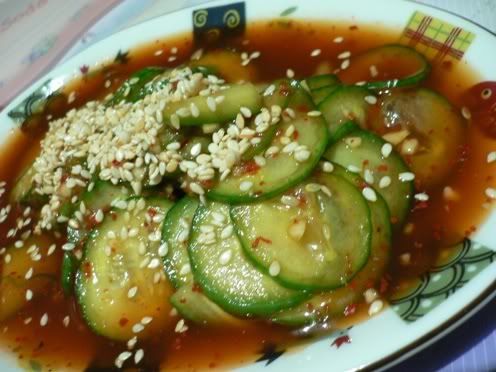 If u love sour food & looking for something to enhance ur appetite, this is the appetizer I would recommend. This makes me want another helping of rice tonight.